ULTIME USCITE


PINTO
---
Metallica


S&M2 (Deluxe)


Swift Taylor


Folklore


Mccartney Paul


Flaming Pie (180 Gr. Half Speed Remater Limited Edt.)


Lp (Laura Pergolizzi)


Live In Moscow


Battisti Lucio


Rarities (180 Gr.Gatefold Sleeve Limited Edt.) (Rsd 2020)


Bowie David


I'M Only Dancing (The Soul Tour '74)(Limited Edt.) (Rsd 2020)


Bowie David


Changenowbowie (Limited Edt.) (Rsd 2020)


PINK FLOYD


Arnold Layne (Live At Syd Barrett Tribute, 2007) (7" Limited Edt.) (Rsd 2020)

U2 L'Europa EP
U2 L'EUROPA EP
---
Etichetta:
Genere: Pop\Rock
Supporto: VINILE
Modalità: VENDITA
Gli U2 presentano The Europa EP:
Side A presenta l'apertura inedita del recente eXPERIENCE + iNNOCENCE European Tour - l'ultimo discorso di Charlie Chaplin del film The Great Dictator, sottolineato da un musical unico mix di 'Love Is All We Have Left' con il classico 'Zooropa' del 1993 - che porta a una performance 'live' di Capodanno da Dublino nel novembre 2018. La
side B ha due remix 'Euro': il mix di St. Francis Hotel di 'New Year's Day' e Jon Pleased Il mix Euromantic di Wimmin di "Love Is All We Have Left".
L'opera d'arte è un omaggio chapliniano eXPERIENCED all'opera d'arte dell'album Zooropa.
MUSICA


TOP 5
---
FATTI SENTIRE ANCORA "THE MAGAZINE"
Laura Pausini
---
PLAYLIST-DELUXE ED.:BOOKLET FOTOGRAFICO 32PAG + VIP PASS
Salmo
---
SIMULATION THEORY
Muse
---
IL BALLO DELLA VITA
Maneskin
---
PLAYLIST
Salmo
---
fonte Amazon.it
DVD & BLUE/RAY
---

Cuaron Alfonso
Roma
MAGGIORI INFO
---


Achille Lauro
1990
MAGGIORI INFO
---

BAMBINI
---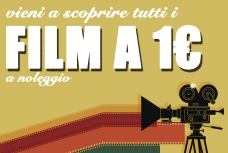 PINTO
I CLASSICI DISNEY A SOLI €9.90
MAGGIORI INFO
---

MUSICA
---


Apple Fiona
Fetch The Bolt Cutters
MAGGIORI INFO
---


Metallica
S&M2 (Deluxe)
MAGGIORI INFO
---




PINTO
FILM A NOLEGGIO A 1€
MAGGIORI INFO
---



grande assortimento vinile
MAGGIORI INFO
---